Now is the time to start thinking about researching niche ideas 2017. I have noticed several trends over the last few months, and these are some of the ideas that I will be implementing in 2017. As many of my regular readers will know, I also work in the health niche.
I am planning as of now to build a new niche site about this product. During 2017, I shall also be incorporating recipes into my other health sites because the term has a great AdSense revenue. As a result of this, my Adsense revenue will increase.
Matcha powder
Matcha powder first came under my radar about three months ago. I was in the Japan Centre in Piccadilly Circus in London. On the shelf was a small green tin which cost over £7.00.
I was intrigued as to what it was. Further research showed it to be a type of green tea. Green tea consumption began in China under the Divine healer Emperor Shen Nung nearly 5000 years ago.
Japan has got one of the highest rates of cigarette smoking in the world and also some of the lowest rates of cardiovascular disease and lung cancer in the world.There is some medical evidence that this dichotomy is down to the large amounts of green tea and matcha green tea that the Japanese consume. As early as the 11th-century green tea was described it as the ultimate mental and medicinal remedy which can make one's life more full and complete!
Some people have also argued that matcha green tea has a thermogenic effect which means it increases the amount of energy the body burns off. In layman's terms, it means it aids fat loss! Now if that doesn't make my brain think of loads of niche ideas, I don't know what will!
Matcha green tea is different from ordinary green tea in that green tree is grown in full sunlight. The Tea Matcha, on the other hand, is grown in very shady conditions and then ground to a very fine powder. These finely ground leaves are absorbed and dissolved in water, so matcha green tea is not drunk it is ingested, which increases its health benefits.
Matcha green tea has also become very popular in the trend towards juicing especially green vegetable juices. As an ingredient Matcha, green tea is green tea on steroids.
Amongst its many health benefits, matcha…
Is packed with antioxidants including the powerful EGCg
Boosts metabolism and burns calories
Detoxifies efficiently and naturally
Calms the mind and relaxes the body
It's rich in fiber, chlorophyll, and vitamins
Enhances mood and aids in concentration
Provides vitamin C, selenium, chromium, zinc, and magnesium
Prevents disease
Lowers cholesterol and blood sugar
Matcha tea is an easy and straightforward way to add powerful health benefits to your everyday diet.
Matcha Powder trends

Matcha power is not as popular as it was in 2014 but it is still showing a healthy increase in trend. There has been an increase in the number of Matcha products. As well as the tea physical products such as books can be promoted as well.
Matcha Keyword Ideas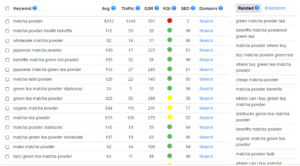 These keyword ideas are colour-coded. Green is all steam ahead. It is easy to rank for without much competition, and there is a healthy search term for Matcha powder and Matcha green tea. As a keyword idea, it looks pretty easy to rank for very quickly.
It would be very easy and quick to rank a niche site dedicated to matcha green tea or matcha green powder. It follows it would also be easy to incorporate the keywords into existing recipe sites; cookery utensils sites et cetera.
Matcha Products for Sale On Amazon
There is a healthy number of matcha green tea or matcha green powder products over $20 on Amazon.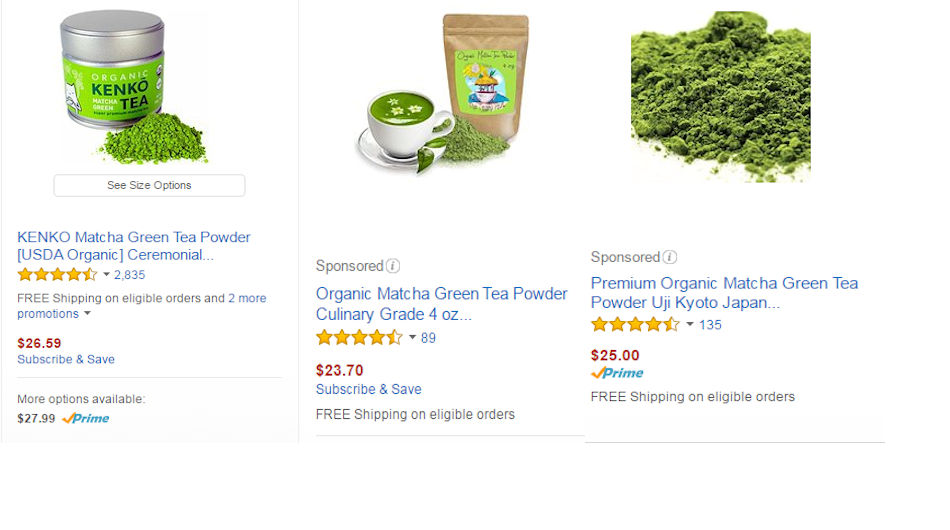 It's relatively easy to think outside the box when thinking about products related to the matcha green tea niche. There is a broad range of cookery books which will fill the bill.  Both Japanese and Korean cuisines use matcha powder extensively.
Japanese food is renowned for being amongst the healthiest cuisines in the world.
There are many opportunities to incorporate matcha green tea powder into existing niche sites. Examples would be healthy eating, a healthy diet for kids, cooking to lose weight. Other examples are losing weight for your wedding using matcha green tea powder as a fat buster.
If you look around Amazon, you will find lots of ceramic where that is complimentary to them matcha green tea powder niche. The Japanese are renowned for their tea drinking ceremonies.
They use a lot of specialist ceramic equipment. There are many ideas within an Amazon to incorporate this into your niche. Other ceramic ideas would be Japanese plates which tend to be oblong or square rather than round.
The Japanese also eat with chopsticks, so that's another opportunity to promote a product. Incorporate matcha green powder into existing sites such as healthy eating, a healthy diet for kids, cooking to lose weight et cetera.
Research recipes and photographs for Matcha green tea.
Matcha Green Tea Lava Cake
120 grams White chocolate
70 grams sugar
80 grams butter
2 medium eggs
50 grams cake flour
17 grams green tea matcha powder
Method
Oil and flour (not count in the above ingredients) the cake pan. I use two 3.5inch cake pan in this recipe. Preheat the oven to 230°C.

Melt the white chocolate in a double boiler. Add sugar and melted butter, stir it until smooth. Add the eggs, one at a time. Mix well.

 Add the sifted cake flour and green tea matcha powder into the mixture. Stir until powder is dissolved. Do not overmix it. Pour the mixture into the pan. Bake the cake at  230°C for 9 to 10min.

Matcha Green Tea Ice Cream Is one of the top flavors of ice cream in Southeast Asia. It's a very popular search term, and it would be a splendid idea to add this ice cream recipe to a niche site about matcha green tea.