David Beckham was the captain of the English football team for six years; he holds the record number of caps for the English team. When he was a top player he won the Premier League title six times, the FA Cup twice and the UEFA championship once with Manchester United. He also won La Liga with Real Madrid and the Major League Soccer Cup twice with LA Galaxy. Bend it Like Beckham in Internet marketing is a lesson to be learned.
No one bend It Like Beckham
In a memorable international game against Greece in 2001 his team had to draw to qualify for the 2002 World Cup, and they were losing 2-1, two and half minutes before the end of the game. Some might say this was a typical English football match. Suddenly a foul was committed 10 yards outside the Greek box. Beckham took the kick. He kicked the ball, which was then bent around a four-man wall and into the top corner of the goal over 30 yards away. No one bends balls like Beckham!
In total Beckham scored amazing 65 kicks during his career, 29 with the Manchester United 14 for real Madrid and 12 the LA Galaxy, seven for England, two for Preston North end, and one for AC Milan.
The burdgeoning Beckham
David Beckham grew up in an ordinary house in Leytonstone in the East End of London. When he was five or six years of age, he started to practice ball control by kicking the ball into the air kneeing it and then heading it. Like most kids of his age, he could do five or six before the ball came to the ground.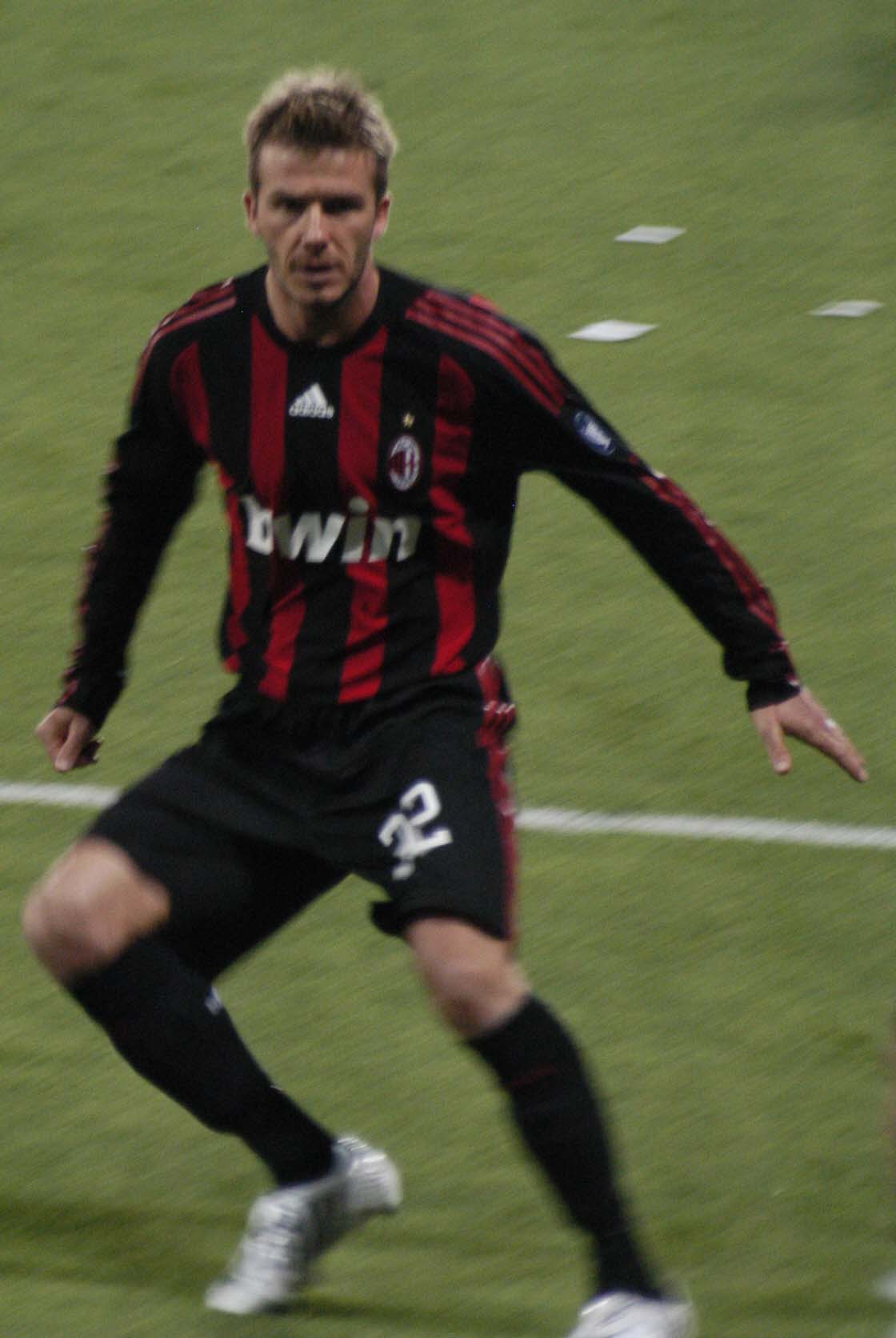 I would imagine that most children in the UK have at some time done this. The difference with David he kept at it! His mother Sandra often watched him through the kitchen window doggedly practicing ball control. It didn't matter what the weather was, rain or shine sleet or snow he was out there practicing.
From Humble Beginnings
Most kids would have given up, but it is quite clear that David was no ordinary kid. He had an incredible work ethic. Very gradually the young David improved. Within six months he could keep the ball in the air for 200 maneuvers. At the age of nine, he reaches record 2003. That is an incredible number nine-year-old child. In all, he kept the ball in the air for 15 minutes, and his little legs must have ached at the end of it.
Perseverence Pays Off
The young David didn't whine that it was too difficult. David didn't say it was snowing out there. He simply got on with the job. The job was to master his ball control. In all that time David must've dropped the ball hundreds of times. As each failure unfolded, he carried on learned from it and practiced some more.
David Beckham may have had an extraordinary work ethic but I'm sure during that time of training he must have wanted to give up at least a couple of times. However, he didn't he carried on. He didn't know he was going to play for England he didn't even those going to be a professional footballer, but a very early age he learned to win. The most important thing about the lessons he learned to win through failure.
Developing Talent
Once you learn to master the ball control it he decided to turn his attention to free kicks. He spent nearly every afternoon with his father aiming the top right-hand corner of a makeshift goalpost made out of wire meshing in his local park. His father stood between the ball and the target which forced his son to bend the ball around a target. Dad said over the years he must've taken 50,000 free kicks in that park.
That must've been some sight watching that kid practice and practice. He must have had thousands of misses until you perfected the tea technique and got it right. Years later when he played for England, he was renowned for staying on after training practice to practice is free kicks. Clearly, David embraced the failures wove them into his work ethic and improved from them.
Connecting Internet Marketing and David Beckham
Many of us can't admit our mistakes even to ourselves. Our egos get in the way. Whatever happens, we blame other people, or we blame circumstances. If you are self-employed, you are in control of your own destiny. I work at home, and I control and decide how much work I want to do and how much profit I make.
I do a lot of paid advertising. When I start my campaign small because not every campaign is a winner. I know that some of those campaigns will fail however they will lead to successes. These campaigns are refined little by little measuring each gain until I got a winning campaign. I do the same thing with my squeeze pages I tweak and tweak until they convert at least 40%.
When the going Gets Tough
David's story may have started with his incredible work ethic, but it finished with his incredible tenacity. In 1998 he was playing for England against Argentina for a place in the quarter-finals of the World Cup. At home, 20 million UK citizens were sitting on the edge of their seat willing England to win as the score was two all.
Suddenly out of nowhere, David Beckham brought a player Diego Simeone down. As Diego got up, he pulled Beckham's hair and patted him on the head. David reacted quickly and decisively by shooting his leg out. Although it was an instinctive reaction and not particularly hard, it caught Diego. The Argentinian milked it for all it was worth and went down. David Beckham got a red card. England lost the match on penalties.

The Tough Get Going
David, of course, couldn't take those penalties because he'd been sent off. Sadly some of the British public didn't behave well. David Beckham received death threats and bullets in the post. A national newspaper created a dartboard out of his head. The young man had made a small mistake, and yet they treated him like the devil incarnate.
Bend it Like Beckham in Internet marketing
David didn't give up. This experience would have broken lesser men. In fact, David Beckham had his finest season. In that year Manchester United with his help won the treble which in England is the Premier League the FA Cup and the championship league. Beckham was there but every single game and at the end of the year, he was voted second in the FIFA World Cup player of the year awards.
David Beckham himself said during this difficult time he felt his willpower hardening would have been very easy for him to be negative. These challenges would have floored people with a fixed mindset. David Beckham regarded these failures as a learning opportunity he grew both as a player and as a person. He said, "six was sending them all it was tough, but I learned a valuable lesson, isn't that what life is about"?