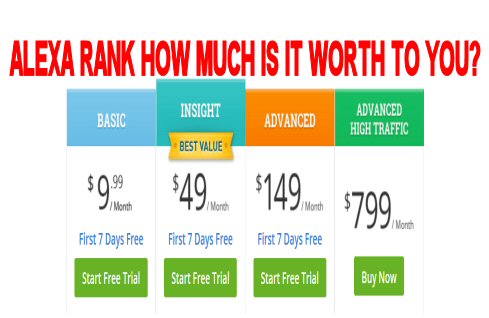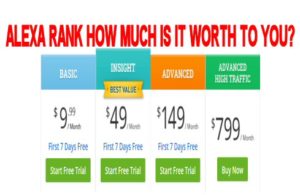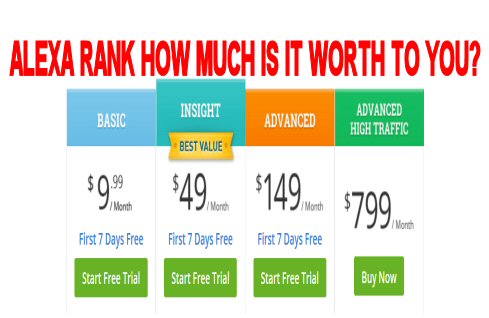 I have to admit I was shocked today, I have had a few comments on the blog, and at wealthy affiliate asking whether Alexa Rank a scam. Explaining an Alexa ranking seems straightforward until I looked at their site and I was gobsmacked.
The last time I looked at Alexa ranking, it was free and now just look at these prices, nearly $800 a month, surely are having a giraffe! So back to the question.
Is Alexa Rank a Scam?
First of all, let's have a look at how it works. Once you have a grasp of the fundamentals, you can decide whether chasing Alexa rank is chasing a rainbow or something that could benefit your business.
How Does Alexa Rank Work?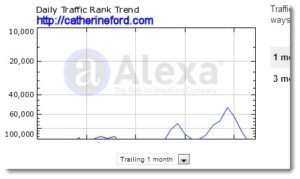 Alexa Rank measures several things including traffic rank, sites linking in a traffic rank in the US. On the surface of it this sounds great but where does it get its ranking from? Does Alexa rank benefit your SEO?
Where Does Alexa Get Its Ranking Position From?
So far so good, Alexa ranking sounds great! But Alexa rankings come from the Alexa toolbar which their customers install into their browsers, and it tracks their activity around the Internet.
Now really, aren't you too old to believe in fairies? How many people in the real world you know that has an Alexa toolbar. Let's say 20 million people downloaded it, the number of people connected to the Internet is well over 1 billion. Let's say 20 million people downloaded it how many people use it?
In my world and I may be wrong it is a cartel! If you don't agree with this then, of course, feel free to leave a comment below. Bear in mind that the way it collects its data a lot of people would call that "adware" at the very best it has to be trackware.
It's not real authentic traffic data. It measures only how many people using the same metric visit your site. In other words, you can manipulate this data by getting more individuals with the Alexa toolbar to visit your site and create a bigger cartel.Which brings me back to my original question Is Alexa Rank a Scam?
Are you potty enough to download the Alexa Toolbar
So I you curious enough, to go and look at your Alexa rank? Or have I convinced you? You can, of course, download the Alexa toolbar which we have established is adware, and if you don't believe it, you can go and check on their website.
If you want to read the debate within Wealthy Affiliates Interestingly enough, Jenn felt she was pressurized at work, within the IT industry
to install Alexa, the story is interesting. It still points to geeks pressurizing geeks and in the real world Alexa ranking is a scam!
Alexa cannot have access to the data that is needed to check your SEO rank; I use the free keyword tool within wealthy affiliate's to check mine or to check traffic in real-time I use Google analytics.
How to get real Rank that Matters
One thing is for sure; the Alexa rank is not going to change your life. Many people have bought things that they don't need because they don't appreciate what it is they do need. Wealthy Affiliates have been around the nearly ten years. It teaches its students how to build sustainable income and work from home full-time.
What it's not as a get rich scheme or a scam or a done for you business. You have to work your way through the lessons, and you have to create your own business.
What wealthy affiliates really offers you is a solid training. It doesn't offer shortcuts. It doesn't attempt to game the system!
Kyle and Carson the owners at wealthy affiliate's have worked out what works and what doesn't. What they did to make money online is what they teach. It is the WYSIWYG business.
Above and beyond the superb training the real benefit is the community. There is a massive community of thousands of active and proactive members.
The benefits of the Community in Wealthy Affiliates
They themselves are working through the training or have finished it. Each person understands what challenges you face because they have faced the same thing.
They want to help you succeed! That may sound very twee, but until you created your free account at wealthy affiliate and experienced this, you won't know how accurate it is.
Wealthy Affiliate understands that there are many new be Internet marketers have been scammed one way or another.
Once they have been through this experience, it 's hard for them to trust or understand whom to trust. As a result of this wealthy affiliate offers a free starter training course.
You may stay as a starter member for as long as you like. No one pressurizes you to upgrade. The majority of people who join eventually become premium members and pay $49 a month.
The average person stays for between four and five months. Some people like myself been a member almost from the beginning.
I can't imagine ever leaving that community. The training is always cutting-edge, and also I have been able to establish long-term networking partners within that community.
Of course, I still have the benefit to be an active helper within the community. I am more than willing to help you start your own business. If your dream is to be able to work from home, then click here to begin your journey.
You can join and interact with real people who are building real stay at home businesses. Some people have been able to give up their day job in the first three months. Others just want to earn some extra money every month.
Whatever your reasons for wanting to work at home with a legitimate and sustainable business you will find it easier with wealthy affiliate