Blogging is a method of earning money which is very successful. Unfortunately very few people learn how to stand out from the crowd to have a million-dollar blog.You can blog to the bank, but not straight off the bat.
The history of blogging is littered with names of people who have sold their blogs for over a million. Many cookery bloggers have been able to sell cookery books on the back of their blogs.
Zoella is a renowned beauty vblogger, and she reputedly earns $50,000 a month, and her blogging has led to the launch of a lifestyle range.
Blog to the Bank Does Not happen Overnight
Unfortunately for every mega success story, there are thousands of blogs that never even get seen by anyone. Kat Williams who founded rock 'n' roll bride.com has a six-figure income. This is because she has found a way to stand out from the crowd. She has a print magazine and makes money from speaking and merchandise as well. Her blocks make a profit from sponsored posts. A sponsored post is where people pay to put their advertisements in front of millions of eyeballs.
Sometimes great fortunes are made from nothing. Peter Cashmore founded Mashable, the social media News blog. He has a brand tracks 20 million unique visitors a month. The value of the blog is around the 200 million mark.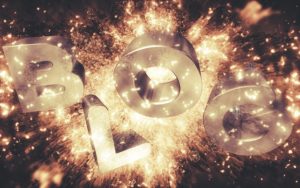 Taking Off
Like Facebook Peter Cashmore simply took off. Sometimes blogs take off for no apparent reason. Andy Weir was a former computer programmer who blogged about space and science. Theoretically, anyone can blog and be successful at it. Realistically you have to write for six months with no one reading it. To get through this barrier, you have to have a unique vision and something different to say. Andy began writing about a manned mission to Mars. Slowly this gained thousands of fans. He turned the blog into an e-book. The e-book was picked up by a publisher and Andy was reputedly paid a six-figure sum for the film rights. The film starred Matt Damon and was called Spaceman.
The process of blogging is very easy. Most days I write my blog post by dictating it into Dragon 15 and then transcribing it. That means it happens on the go. I don't have to be sitting anywhere near my computer! So while it's relatively straightforward process to write, turning a blog into cash is not always that simple.
Becoming An Authority Figure
Cash is not always the objective. Seth Godin has a blog with completely free content. Seth was the founder and inspiration behind Squidoo he is also the bestselling author of the Purple Cow and also Tribes. He has used his blog to reinforce the perception that he is an authority figure.
It's not always necessary to create a brand-based empire. Madeleine Shaw created Wellness, a classic example of making your passion pay.Madeleine had an interest in Wellness and created a blog which takes that passion to new heights.
Her personality and passion have created a personal brand business. This is the basis of niche specific deals. In just three years she has built up a loyal following of over 30,000 monthly unique visitors. She has over 1/4 of a million followers on Instagram and now has two bestselling books and a food range in Harrods.
Zoe Margolis A.K.A Abby Lee became well known several years ago for her sex blog. Eventually, the observer ranked it as one of the top 50 most powerful blogs in the world, and her anonymity was busted. She did stop blogging for a while but presumably the lure of writing about sex or the money enticed her back. Hundred thousand unique visitors every month. However, this gritty truthfulness about the sex life would not be for all readers or all writers.
Be Heard Across All platforms
Don't neglect a social media presence when you begin writing your blog. Every day you should post to LinkedIn Facebook and Twitter. This can be hard to do when you haven't got any readers. But as the owner of back to the movies or bttm.co.uk Shaun Evans said you just have to keep going. People think my blog took off straight away but my traffic was terrible.
Think of social media is an exceptionally crowded Asian market. Imagine the huge market in Istanbul. When you go the first time it's overwhelming.
Very crowded very noisy multiple people are shouting and competing to get the message about their products across. There are people jostling to get bargains you are being pushed out of the way. And you are only a bystander.
You're looking for something you are definitely there to buy but you don't know where to look. Maybe you don't even know what you're looking for.
Eventually,  your eyes adjust and sort out the confusion. Your ears become more attuned to single voices so that you can hear one shopkeeper or stallholder that you are looking for.
Once you found that one person you can stop and relax. Chances are you will be offered a cup of tea; you can ask questions. You can ask about the provenance of the goods you are buying. If this spices, you can feel it and smell it. If it material you can feel it soaking us through your fingers.
Making Sense of It all
You have a tangible product, and you can check whether the trader is offering you a good deal. Chances are his rivals will be right next door so they will be offering the same goods but not necessarily the same prices.
Social media is like the Istanbul market; the shop is your blog. You have to get your customers to the party before they can see you. Some social media platforms will work better for you than others.
I for instance post to Twitter every day, God only knows why I've never seen any results! On the other hand, LinkedIn and Facebook send me a reasonable amount of traffic. If I had a blog with visuals and photographs then, of course, Pinterest or Instagram would work better.
As a blogger, you have to dip your toe in the water and see what works for you.The first signs of success would be you will receive comments. This is one way of knowing the sort of engagement you are having with your reader.