You may be coming here not knowing what Internet marketing – it is basically recommending a product or service from an online platform such as a blog. When someone buys from one of your recommendations then you get commission which could be anything from 5 – 75% of the sales price.
There are other ways and modules to make a living online, but affiliate marketing is the easiest platform to break into. If you're not sure whether it's you that I recommend this free product made by my friend Sarah Staar arguably the most successful woman in Internet marketing in the UK.
If you click on a link to Sarah's product you will be taken to a page where you will have to fill in your name and email address. The reason for this is that your free product is delivered from a membership site and your unique username and password is emailed to you.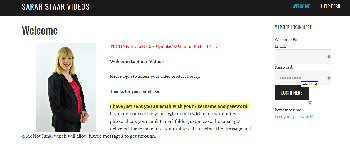 You sign in as shown on the image and watch your free videos. Once you have received the welcoming email you can unsubscribe if you wan to, but Sarah sends out a lot of free stuff an these are all state of the art techniques, so it is worth staying on her list.
So you watch the free videos and you decide that you'd like to give Internet marketing a go, after all what have you got to lose, -I am going to show you how to do it with free training.One of the oldest sites for Internet marketing training is Wealthy Affiliate's, they have been going for nine years and I have been a member since 2007.
Over the years, the site has changed but the concept remains the same, the two owners kyle and Carson strive to make the community the most vibrant and successful. Because, they have been round the block a few times regarding Internet marketing they know there are a lot of scams out there.
Because of that they offer a free account set up to the training. There are no strings attached, they are very well aware from experience that most people join because they have experienced first hand the value the training has to offer. To have a look at one of the success stories, click here, there is nothing special or outstanding about this post, but do check the number of replies it has.
One of the reasons that the community at Wealthy Affiliate is so strong is the fact that there are well over a 100,000 active members all trying to help you. Obviously with a community that large everyone is at different levels, many are total beginners and many more of those are pensioners, or senior Internet marketers.
I would say that I am an expert in Internet marketing, but I in this community for over seven years, and incredibly I still learn. No matter how much an expert you are or how much are beginner you are sometimes you still need help. As you can see from the video there are two ways of getting help – you can ask the community, that they take 10 minutes to get an answer or you can just jump in and ask in live chat. Actually there is a third way you can private message Kyle or Carson.
How is the training delivered within Wealthy Affiliate's?

Video (there are many students speaking many different languages so showing someone how it is set up is often the best way.
Text
Live webinars (free and not compulsory) with replays available
Live chat operating 24/7
If you're curious have a look at the video below and I'll show you around.
If you would like to listen to one of the owners welcome to the community click here
All you have to do to create your free account is click here.