Something cool happens every time I run one of my $1 PLR sales. I notice that several people have this awesome page after I hit "Send" in a reply back to them that is built all around their brand or persona.About.me created it.
Then in the February 2012 issue of Entrepreneur magazine, I saw a mention of it again – it was #5 in an article titled, "10 Lessons in Brilliant Marketing."
About.me
The branding tool is About.me and I personally had never used it before now. But I always loved those splash pages I'd see after I emailed someone and now to see they're getting viral buzz about their campaign made me even more enthusiastic about it.
About.me is an AOL service that's free. You create a splash page there and it pulls in all of your online profiles so that when someone wants to know more, you don't have to give them a laundry list of social profiles – you give them one URL– and they can find it all there.
You know what it reminds me of? A billboard. But online. The pictures are big and there's a little bit of text.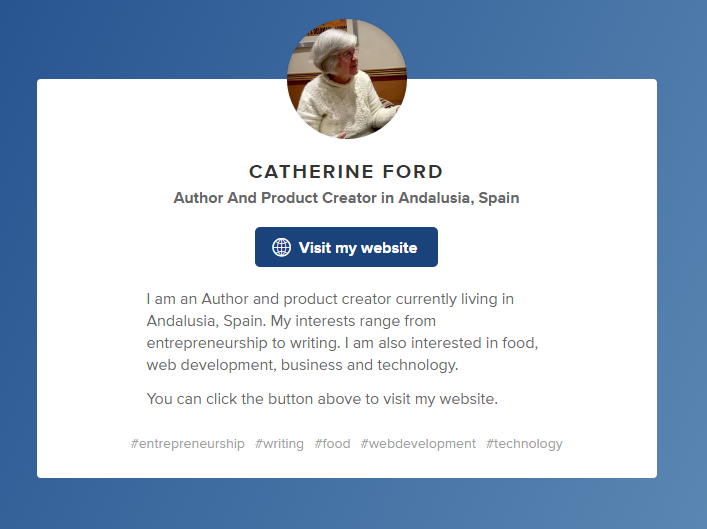 The Meat and Potato
There's an image, a little content, and then links to the social profiles of the user underneath the text.
But it's not just an online billboard or business card. You get analytics with this tool, too. So you get to see who's seeing the profile,
where they're from, and what they're doing on the page.
Signing Up for an About.Me Page
So let's get started with it since it's building a reputation. Go to www.About.me and sign up.
You'll need to enter an email address, pick a password, and choose your URL ending. It will be about.me/whateveryouchoose.
I choose about.me/catherineford of course.
Next, you'll fill out the forms they have to complete your registration. You want to fill in your first and last name and write a biography about yourself. Then you'll tag your profile with keywords.
You get 2500 characters for your biography. I wrote a kind of a lengthy one, but only because I figure if someone wants to know "what I'm
about," then this is a good place to tell them.
But they don't have to be long – I love the short and sweet versions I've seen online too, and I might play around with mine.
You get up to 10 keyword tags.
Once you choose those and continue, you will be taken to a screen where you can pick a background for your About.me page.
You can pick one they offer or upload an image of your own. They say the ideal size is 1680 by 1050 pixels.
I picked my favorite one – a Manowar. Later, I plan to go back and put a better headshot on there instead of the Manowar image. Oh, wait! I went in and created one with a Honey Badger!
Honey Badger is my mascot. It doesn't care – who it offends, who it battles – it's just doing things its own way, and I admire that. If you haven't seen the viral Honey Badger video, find it. I like the images that are unique, but the headshot pictures I have right now aren't good at a larger pixel.
The tabs
At the very top of the page, you'll see a variety of tabs. Go through and fill those out.
The background is first. Then click on Biography. This is where you can edit what you did before, but you'll also be uploading a profile picture and writing a headline for your page.
You'll also upload a picture. Some people make their picture their entire background image. I would need a better resolution image for that. Once I have some professional pictures made, I'll edit it.
One note: When you first write your biography, it allows you to make paragraphs, but when you get to this screen, you'll see that they're all scrunched back up. Go through and separate them again.
It gives you the option at the bottom to show your tags on your profile. Why not? I leave mine checked. Might as well plant the seed in my readers' minds about what I want to be known for!
Everything can be Customized
On the next tab, you can go through and choose colors for your page. Everything is customizable – from your name to your headline to your links. The next tab lets you choose which fonts you want to use. I leave mine at the default.
Then comes the fun part – adding your services. Click "Add a Service" to enter one of your social networks!
This is what you'll see pop up:
I'm going to enter my Twitter, FaceBook, LinkedIn, Google+, and some other URLs using the last option.
When I click on Twitter, it has me authorize the Application. Same with the others. When I try to add my own URLs it says "Uh Oh, Something Bad Happened – it's not you, it's us."
A Spanner
So no clue what that is – I'll try to add it later. Okay looks like they're there! One is my home page, another is the RSS feed it encouraged me to share – and the last is the blog.
The last tab allows people to email you or video chat with you. Your choice.
You can see my About.me page here: http://about.me/catherineford and be sure to share yours with everyone else, too!
We're not done quite yet!
Navigating Your Dashboard
Once your profile is set up, you'll be able to access statistics about your profile. Click Dashboard at the top of your page.
When you click on Profile statistics, you can see how many profile views for the day, week, month or year.
You can see the average time spent on your profile and what percentage of those are new visitors.
It has a tab for getting more visitors. You CAN work on driving traffic to this page, and it even suggests Google AdWords, but really – I honestly wouldn't pay or work hard to get traffic here specifically.
I would (instead), use this as a business card of sorts. Tweet it, have it somewhere on your blog, in a signature file for emails, on
FaceBook, etc.
Traffic-wise, I would work on sending traffic to those individual sites instead.
By the way, About.me has been tied into Klout, so if you click on the "More Data" option, you'll see a big screen with your Klout data on it.
The Favorites option lets you favorite someone else's profile. This could be a great little tool for bookmarking who you want to network with
in the future.
The Offers choice is really you paying $5.50 for some "free" business cards. I'm not going to bother.
Go to the Inbox and set up your About.me email address.
When you click on Find People at the top of the page, it lets you look for featured people or find your friends.
This is awesome!
I click Twitter and it instantly shows me 22 people who have About.me pages who I follow on Twitter! I can put them in my favorites, too.
You can do the same for all of the social networking options it gives you – and more importantly, other people can favorite YOU.
This is one of those set and forget things in my opinion. We're going to want to have one because it's a good branding tool, and it'll work for us as an FYI page to tell our overall messages, but it doesn't require much upkeep.